Hello everyone! A fresh new version is out there!
A new feature were added: for all the logged in user is now avaible a widget with all the rating he/her put on the site: take a look at this screenshoot (the green box ):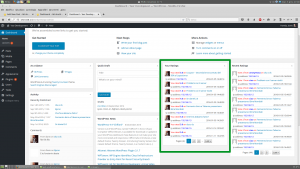 The other one is the classic log widget available only for the admin.
The changelog:
* NEW FEATURE: New widget in the dashboard: all the logged in user can now see the logs of their votes
* FIXED: Insert new vote instead of update the old one if a logged in user try to vote an already rated post on archive pages
* TWEAKED: Speed improvment on dashboard widget
* TWEAKED: added html class on rankings
* TWEAKED: improved feature with the user reviews extension
What do you think about this?