Amazing news! Yesterday Yasr 1.2.0 and Yasr Stylish 0.0.6 have been released.
Let's check what is new in Yasr 1.2.0
* FIXED: if more then one visitor multiset for page were used only the last use to work
* TWEAKED: transient are used to cache ratings: this means that Yasr is faster then ever
* TWEAKED: shortcode creator is now above of tinymce. It now uses thickbox
* TWEAKED: added filter 'yasr_filter_ip' to filter stored ip address
* TWEAKED: code cleanup
The most important news is the use of transients. This mean that yasr does less query with the result that is much faster!
Another nice news is the shortcode creator: it's not anymore inside tinymce but just above: see screenshoot.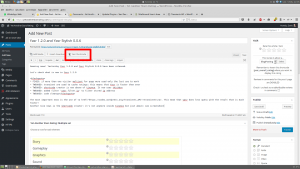 Until version 0.0.5, Yasr Stylish use a file .css.php to serve dynamic css content. It was a simple and good method, but it was heavy for server resource. It have been replaced by inline css, it does the same job but is much faster!
Remeber to delete all your caches after the update
Stay tuned for other news!
What do you think about this?