Increase your SEO traffic with
Rich Snippets!
Have you ever noticed the stars in Google's search results?
I'm sure you did!

With YASR you can have them too, quickly and easily! For each post or page on your site, you can select how the stars should appear, with a lot of settings available!

In order to do this, YASR will automatically fills in the necessary microdata using the JSON-LD standard.
Let's
begin!
Below the editor (works with both Gutenberg or Classic Editor) you will find a box like this: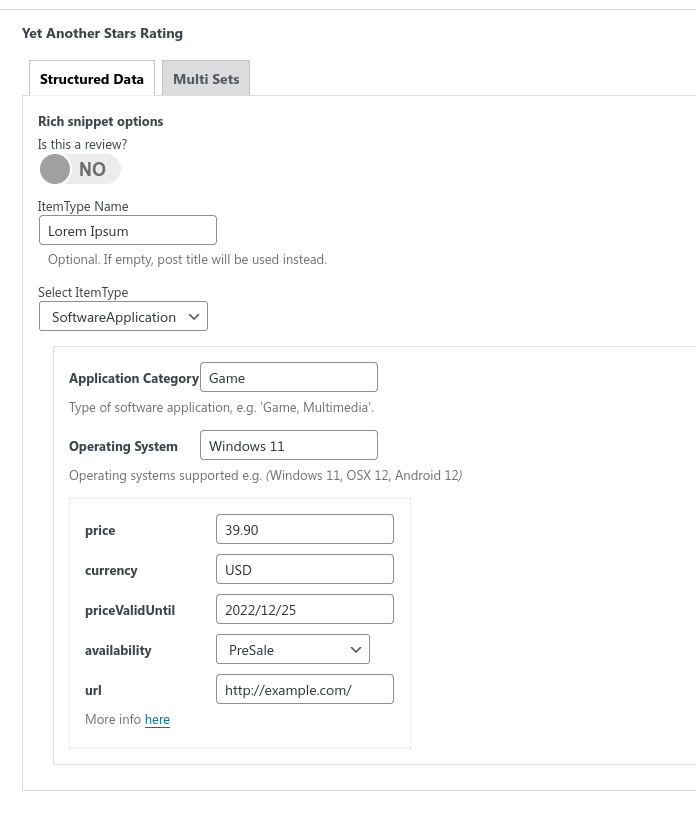 The first thing you need to know is that stars in search results can be indexed using two different kind of properties: Review or AggregateRating

Review must be used if the post (or page) is a review. The author gives a vote according to his judgment and this vote will be shown in search results like this:

To accomplish this, in YASR you have to select "yes" in reply to the question "Is this a review?" below the page editor, and give a vote using the yasr_overall_rating feature.

With AggregateRating, average rating is instead based on multiple ratings or reviews. When based on multiple ratings, stars will be shown like this:

With YASR, you can achieve this by using yasr_visitor_votes shortcode, and select "no" in reply to the question "Is this a review?".

With Pro version your visitors can leave a review in the comment form: ratings will be indexed like this, based on your user reviews :

Wich
itemTypes

are supported?

YASR supports the following itemTypes:
BlogPosting ✝
Book

author
bookEdition
BookFormat
ISBN
numberOfPages

Course
CreativeWorkSeason
CreativeWorkSeries
Episode
Event
Game
LocalBusiness

Address
PriceRange
Telephone

MediaObject
Movie

actor
director
Duration
dateCreated

MusicPlaylist
MusicRecording
Organization
Product

Brand
Sku
Global identifiers
Price
Currency
Price Valid Until
Availability
Url

Recipe

cookTime
prepTime
description
keywords
nutrition
recipeCategory
recipeCuisine
recipeIngredient

SoftwareApplication

applicationCategory
operatingSystem
Currency
Price Valid Until
Availability
Url
✝ BlogPosting itemtype will not show stars in search result. More info here.
You will notice that if you select review and then test the page with Structured Data Testing Tool with some schema itemType (e.g., product) this warning will appear:

The aggregateRating field is recommended. Please provide a value if available.

Greetings by the Structured Data Testing Tool
After a lot of tests, I noticed that if both aggregateRating and review are in the same page, google will index it with aggregateRating.
So, you should just ignore that warning if you want to index your page as a review.